Racing Update 2011

East Penn will be partnering with Earnhardt Ganassi Racing with Felix Sabates and Andy Belmont Racing.

The Deka Absorbed Glass Mat (AGM) batteries will power the Number 42, and 1 Sprint Cup Series cars and the Number 1 Arca Series car on the race track.

NASCAR Driver's Depend on Deka
The only thing that moves faster than NASCAR high performance race cars is the technology behind them. As the designs of these race cars continue to advance, so must the batteries that power them race after race. At this level of competitiveness, a no-start situation can mean it's over.
That's why top NASCAR teams depend on Deka batteries to start their engines. Deka has some of the most advanced and dependable batteries in the world.
A leader in the latest battery technology, East Penn, makers of Deka brand batteries, has designed an (AGM) absorbed glass mat battery that is approximately three-quarters the size of a standard battery (group 24).
The reduction in size and weight enables a race car to have a dual battery backup virtually eliminating the chances of not starting due to a charging systems failure.
While your vehicle does not require a dual battery backup for everyday use, it's still important to have one battery that won't let you down. Like the pros, you too can depend on the quality and power of Deka to help avoid a no-start situation.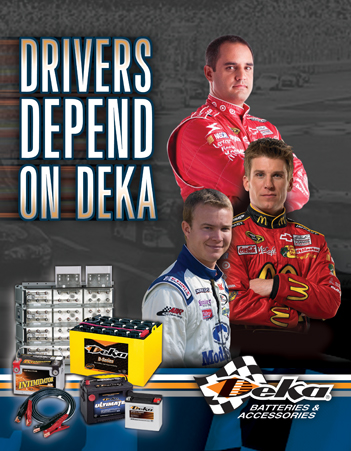 Other Links
All trademarks are property of their respective owners, and used with their permission.