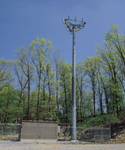 Download PDF for complete product details:


Beat the heat and reduce cooling costs today. In telecommunication outside plant cabinets, elevated temperatures have always been one of lead-acid battery's more formidable foes, requiring costly cooling systems integration and constant energy demands. Along with the cost associated in purchasing and installing cooling units, there's the continual cost and energy loss from powering these systems. Multiply that by every site, and the expense keeps growing. East Penn is introducing the Deka® Fahrenheit™, a revolutionary new battery that will not only beat the heat, but also reduce the cost of these expensive cooling systems.
A breakthrough in heat-tolerant VRLA monobloc battery design, the new Deka Fahrenheit survives up to 3 times longer in temperatures of 60C - far beyond the life of a normal VRLA battery. Innovative features through an exclusive Thermal Management Technology System provide a product that significantly reduces the need for outside plant cooling systems to save considerable cost, conserve energy, and reduce the overall sites CO2 footprint.