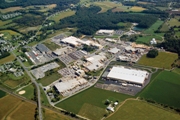 Click here to submit your information
Design Draftsperson
SHIFT TIMES:
1ST
JOB SKILL REQUIREMENTS:
Interpret specifications, production reports and schematic drawings.
Advanced math skills (algebra, geometry, trigonometry), physics knowledge utilized, basic mechanical (design, strength of materials, etc.), good communication skills (written and verbal), and well organized.
Working knowledge of Auto Cad R12 (or comparable CAD system), spread sheet programs, and word processing.
JOB PROCEDURES:

Designing machines, machine assemblies, tooling, and machine parts.
Designing products (new/modifications) using CAD.
Recommending changes to new or existing products or designs.
Answering questions from plant personnel, vendors, customer, and other engineering personnel.
Improving work processes in the plant.
Problem solving, and writing reports.
Writing and maintaining documents, which are part of the Quality system.